The Hildebrand Rarity (Video 2008)
Edit
Template:Infobox film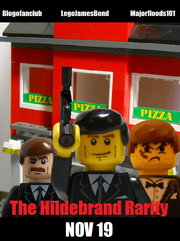 The Hildebrand Rarity was a Bond Brickfilm created by the user known as Blogofanclub and it was the first film in a while in 2010 created by Blogofanclub. It was released on November 19, 2010 and Trailers were present on Blogofanclub's channel. James Bond returns as a different minifigure in this promotional film. The Hildebrand Rarity was based off of the short story by Ian Fleming. Except it was motifed by Blogo Pictures. The character Milton Krest was a Woman beater, and in the Blogo version he was known as a buisness man. The terms Drugs were changed to Toxins. There was no Bond Girl present in this film.
Movie Synopsis
Edit
Bond... James Bond After the reboot in the story, James Bond has an friend in the past who betrayed him. Goes after Bond to backstab him. Milton Krest has a 1,000,000 dollar bounty for death. Derek asks Bond to kill him. Derek was actually the boss of Milton and Bond finishes the job anyways. Now the status is to kill Derek Jameson.
Ad blocker interference detected!
Wikia is a free-to-use site that makes money from advertising. We have a modified experience for viewers using ad blockers

Wikia is not accessible if you've made further modifications. Remove the custom ad blocker rule(s) and the page will load as expected.