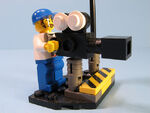 This Brickfilm is in Filming!
A Brickfilm is being edited on this page by Agent Chase, and may undergo critical changes while this message remains in place.
As a courtesy, please contact the user before making edits on this page.
If no changes have been made by the editor for more than three weeks, this template may be removed.
This page is used to tell visitors all about LEGO Brickfilm Wiki.
LEGO Brickfilm Wiki is an Internet Encyclopedia about everthing Lego Stop-Motion. Brickfilm Wiki is written collaboratively by its readers known as Brickfilmers. Any one can edit, which means You can help Brickfilm Wiki by editing any page! Brickfilm Wiki strives to be the best Information soruce for Brickfilms on the Web.
Ad blocker interference detected!
Wikia is a free-to-use site that makes money from advertising. We have a modified experience for viewers using ad blockers

Wikia is not accessible if you've made further modifications. Remove the custom ad blocker rule(s) and the page will load as expected.